Troester

+

Sauer

Julius

Im Jahr Xti 1810 den 1ten July wurden nach geschehen

glaubhafter Anzeige in hiesiger Pfarrkirch ordnungs-

mäßig geschehen 3maliger Ausrufung mit Einwilligung

der Bräutigams-Eltern getraut und ehelich eingesegnet:

Nikolaus Troester des Leonard Troester Bürgers dahier

ehelich erzeugt lediger Sohn; neuangehender Bürger

dahier alt 30 Jahr mit Barbara Sauer des Sebastian

Sauer Bürgers dahier ehelich erzeugt ledige Tochter, alt

21 Jahr. Zeugen waren a) Jörg Foerg b) Leonard Sauer Bürgers

dahier. Welche gegenwärtiges Protocoll nebst mir dem Pfarrer

unterschrieben haben. Krick Pfar.

Johann Georg Foerg, Lenhard

Sauer
=====================================================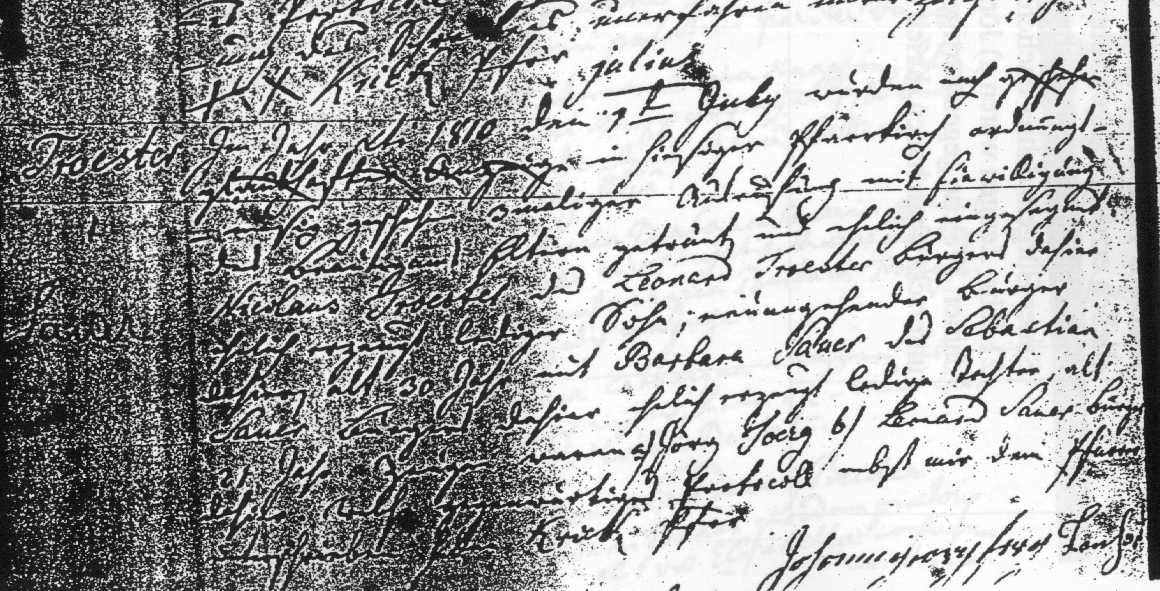 =====================================================
In the year of Christ 1810, with occurred convincing
annoncement in local church after moderately occurred
threefold proclaiming with consent of bridegroom
parents were married on 1st July:
Nikolaus Troester conjugal unmarried son of the local citizen
Leonard Troester, 30 years old beginning citizen, with
Barbara Sauer, conjugal unmarried daughter of the local
citizen Sebastian Sauer, 21 years old.
Witnesses were the local citizens
a) Georg Foerg b) Leonard Sauer.
Those signed this log with me the priest. Krick, minister.
Johann Georg Foerg, Lenhard
Sauer
=====================================================
details of Sauer ancestry
back to Leonards ancestry
back to homepage
Created by Ralf Doersam 2002