Johann Adam Dörsam * 13. Mai 1810 in Unterschönmattenwag
Dörsam Sauer Boehm unehelich + d. 30-November 1862 Döppheimer
=====================================================
Im Jahr Christi 1810 den 13ten May Nachmittags um 3 Uhr
gebahr Eva Margaretha Boehm geborne Doersamin
des verstorbenen Johann Adam Boehm hinterlassene Wittwe
einen unehelichen Sohn, der den 13ten desselben Monats
getauft wurde, wo Er den Namen Johann Adam erhielt.
Gevatter war Johann Adam Doersam, des Johann Jörg
Doersam ehelich erzeugt lediger Sohn. Nach Angaben
der Mutter soll Vater seyn Johann Adam Sauer.
Welche gegenwärtiges Protocoll nebst mir dem Pfarrer,
der die Taufe verrichtet unterschrieben haben. Krick, Pfr.
Johann Adam Sauer wurde zum 10ten September 1810 vom Amt als Vater freigesprochen.
====================================================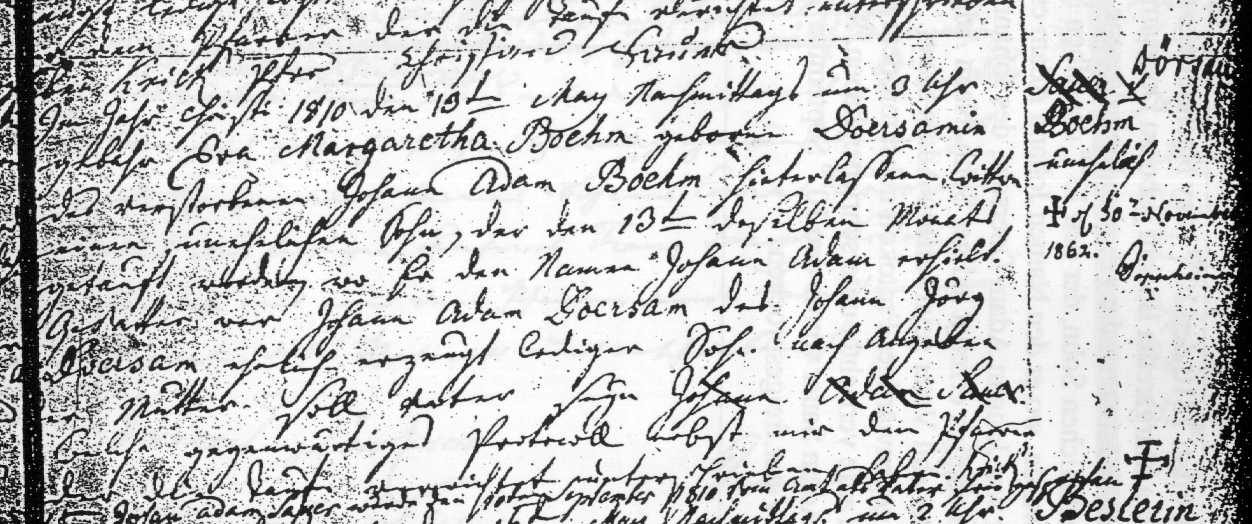 On May 13th 1810 at 3 o´clock p.m. to Eva Margaretha Böhm, born Doersam,
left widow of Johann Adam Böhm, an illegitimate son was born, who
was baptized on 13th in the same month and given the name Johann Adam.
Godfather was Johann Adam Doersam, legitimate son of Johann Georg Doersam.
The mother nominated Johann Adam Sauer to be the childs father.
Those signed this record with me as priest, who performed the christening
Krick, Pfarrer.
Johann Adam Sauer was acquitted to be father by department on 10 Sep 1810
=======================================================
details of Sauer ancestry
back to Leonards ancestry
back to homepage
Created by Ralf Doersam 2002