Troesterin

Schönb(runn)

1814 Januarius

Im Jahre Xti 1814, den 7ten Januar Abends um 5 Uhr

wurde nach geschehen, glaubhafter Anzeige Nicolaus Tröster,

Beisaß dahier, mit seiner Ehefrau Barbara, geborene

Sauerin, das 3te Kind geboren, eine Tochter, die erste

Tochter dieser Ehe, und den 9ten dieses M. Vormittags um

9 Uhr getauft, wo sie den Namen Eva Elisabeth erhielt.

Gevatterin war Eva Elisabetha, des Johann Jerg Foerg

Bürgers dahier, ehelich erzeugt ledige Tochter. Welche

gegenwärtiges Protocoll nebst mir dem Pfarrer

der die Taufe verrichtet unterschrieben haben. Krick Pfr.

Niklaus Tröster ; Evalisabethe Fergin
======================================================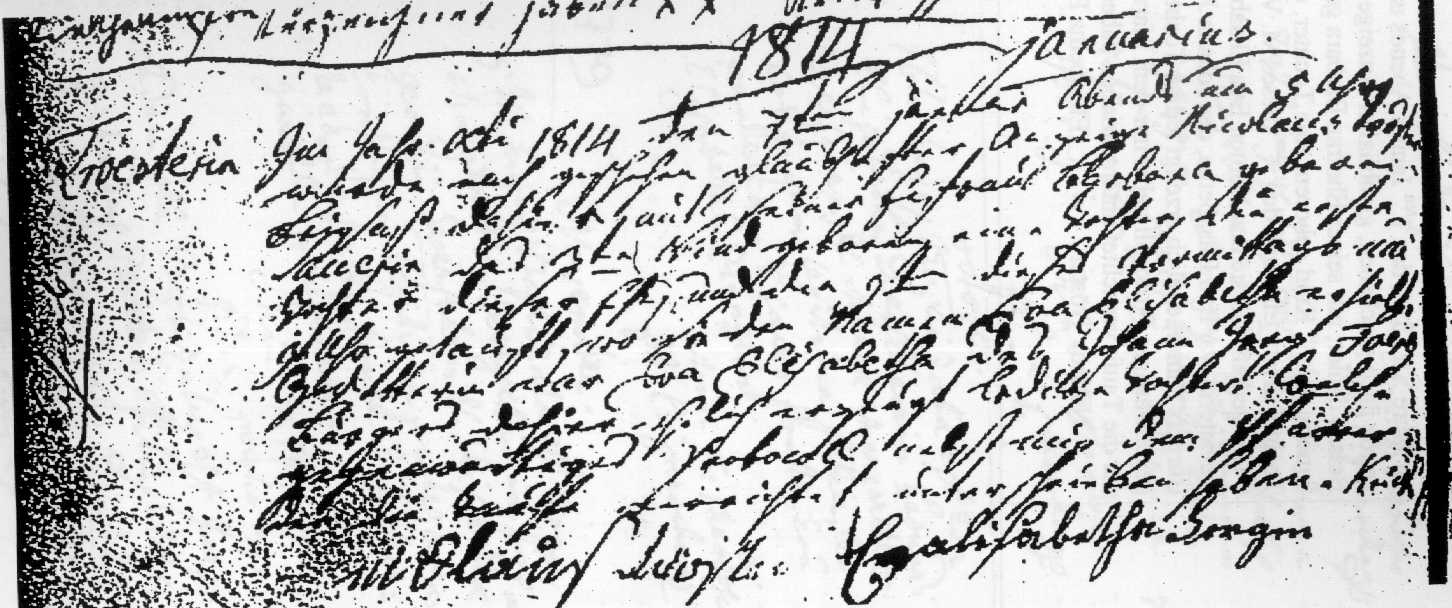 ======================================================
Tröster(in) (of) Schoenbrunn - January 1814
In the year of Christ 1814, on 7 January in the evening at 5 o'clock in
accordance with occurred convincing announcement, to Nicolaus Troester,
local inhabitant, and his wife Barbara, born Sauer, the 3rd child was born,
a daughter, the 1st daughter of this marriage, and baptized on 9th of
this month in the morning at 9 o'clock, by that she received the name
Eva Elisabeth. Godmother was Eva Elisabetha, conjugal single daughter
of local citizen Johann Georg Foerg, who signed this log with me priest
performing the baptism. Krick, minister.
Niklaus Tröster; Evalisabethe Fergin.
======================================================
back to Leonards ancestry
back to homepage
Created by Ralf Doersam 2002